Antigua Beach Tours - Bookings & Reservations:
Contact Us

Telephone:
+1 (268) 732 5661
Email: ira365beaches@gmail.com

Meeting Place MAP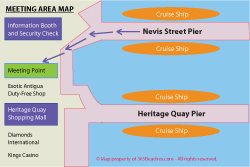 THINGS TO KNOW... BEFORE YOU GO:
CANCELATIONS:
"365 Beaches" Antigua is not responsible for any injury or property damage/loss that Guests may incur in connection with any of our shore excursions. All "365 Beaches" are subject to availability and/or cancellation based on weather, itinerary changes, and attendance. Children under 18 years of age must be accompanied by an adult on "365 Beaches". All prices are subject to change without notice. Cancellations can be made up to 3 days prior to the cruise departure date. After that time all reservations are final and non-refundable.
BOOKINGS:
• Tours must be booked in advance. Guests are encouraged to wear comfortable walking shoes. Guests must be at least 48 inches tall to ride all water slides. Children must be accompanied by an adult and must wear a life vest (provided free of charge) .
PURCHASES:
• Guests are encouraged to bring US dollars or a credit card to purchase optional extras, such as souvenirs and additional food and beverage. We suggest a waterproof money carrier - to keep your money and small belongings safe and dry. Many local vendors in Antigua may not accept credit cards. Please keep your money, and important personal belongings, purse, wallet with you at all times. Antigua does not have a big problem with theft at the beach - however it is important to always play it safe. Please use caution and do not stray to far from your tour group.
GRATUITIES:
• You should never feel that gratuities are expected, but it is customary to leave a tip for your tour guide/driver in recognition of exceptional service. It is always up to you to determine the amount.